Jalen is a leader in his class at the Applied Technology center where they pack bags for around 600 hungry students in Rock Hill schools every week. Just a few short years ago, Jaylen was one of those hungry students. Today, Jalen sees the importance of "coming together as a community to get things done". Because of the food provided through Back the Pack, Jalen was able to come to school and learn without being distracted by hunger.
In collaboration with Second Harvest Food Bank of Metrolina, United Way, business and community investors, we're providing improved meals over the weekends to hungry students in every elementary & middle school in Rock Hill Schools. Bags of food are discreetly placed in student bookbags on Fridays so that they can be nourished every weekend and come to school ready to learn every Monday morning.
Improving Nutrition. Providing Meals. Producing Results.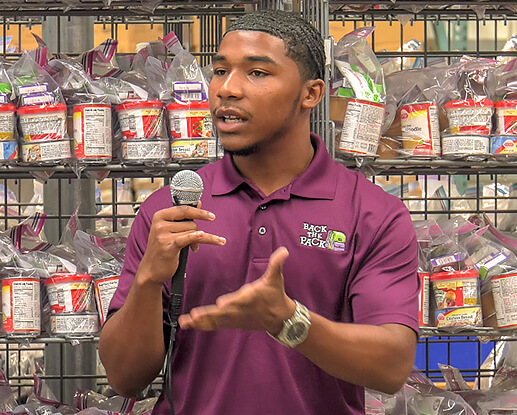 Help students like Jaylen become leaders by investing in @RHSEF today.
Annual cost per student: $132 / Weekly cost per student: $4 week
Be dedicated to the difference in Rock Hill Schools TODAY!
Be dedicated to the difference in Rock Hill Schools TODAY!
ROCK HILL SCHOOLS EDUCATION FOUNDATION
Dedicated to the Difference... We begin where tax dollars end.